Sometimes a design flaw can be something incredibly subtle like the positioning of the words on the page that causes the viewer to overlook important information, but other times a design can be so flawed that even the most technically inept find it difficult to look at a page.
It is surprising in this day and age that there are so many horrible web designs still floating around out there, many of them still in use on active sites trying to promote or sell something! No matter what route you choose to take for picking the design of your website, make sure that whoever making it is experienced and knows how to avoid the pitfalls of bad web design.
5. BlueFire Supper Club
This is not one of the worst designs on this list, but it's definitely an awful one. There are times that incorporating the name or theme of your business into the design of your website just isn't going to work and this is certainly the case with any website with fire in the name. It's next to impossible to make fire look anything but amateur within the design of a website. Not to mention the horrible table design, the awful font on the text, the harsh contrast of bright blue against black, and the blurry logo. This website doesn't make me want to visit their restaurant, it makes me lose my appetite.
This site reminds me of HTML class in high school ten years ago when you were first learning how to do anything and buttons and frames still seemed pretty nifty. Really, that's the only excuse for this site. The buttons absolutely kill me. They have to be some of the web's ugliest buttons and the positioning of the content almost seems random. But, by far, the absolute worst thing about this website is the text that is aligned in the center and then just keeps going and going and going. If the guy can't see that this is a horrible design, there is no way I'm trusting him with seeing how to fix anything on my body.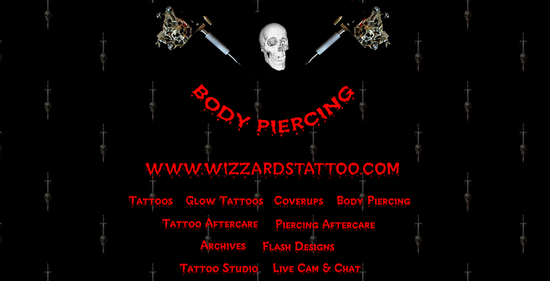 A horrible flash intro greets you as you enter this site and then moves into the infamous red on black design that so many misguided site designed love. The background is amateurish, the logo is hard to see in places, and the bleeding text makes your eyes want to do the same. With old-fashioned rotating gifs and clumped together navigation to top it off, this site pretty much guarantees that I'd sooner stick a needle in my own arm than let these guys do it.
I'm pretty sure that when they finished, the web designer and site owner looked at this and thought it was amazing. They have some good ideas on here, some flashy modern tricks like the sliding menu, and they hit some of the important website necessities like Facebook and Google links. The problem is that they do every one of those things in about the most awful ways possible. The colors on this site look like someone was closing their eyes and choosing randomly. And the logo has to be one of the worst I've ever seen with the horrible pearl color and the font and the snowflakes and everything about it. This site doesn't make me feel festive, it makes me nauseous.

It really, really is. It is done on purpose, but is still one of the best, if not the very best, example of all of the things you should never, ever do when creating a website. If I went into detail about everything wrong with this site we'd be here forever, but some of the worst are the flashing gifs, glaring colors, moving parts, and everything clumped together with no rhyme or reason. Also, the frames. The frames make me want to cry. This website is the best for being the absolute worst.
Here are some resources to make your own website design better:
What are some of the worst designs you've seen? Let us know in the comments!
Featured images:
 

License: Image author owned

 

License: Image author owned

 

License: Image author owned

 

License: Image author owned

 

License: Image author owned
Annie Wallace is a stay-at-home mom, blogger and freelance writer.